MAIN PAGE > Offer > Premium countertops
WORKTOPS WITH STRAIGHT EDGES

Modern, durable table tops with beautiful, deep surface structures and straight edges.
The top is covered with a rim that matches the color and structure of the laminate
modern design
deep surface structure
Countertops with a straight edge - construction
See how our PREMIUM COUNTERTOPS are built:
base material - chipboard,
upper worktop layer - high quality decorative laminate
bottom layer - moisture resistant back pressure paper,
long edge of the countertop - polypropylene PP rim with a thickness of 1,2 mm.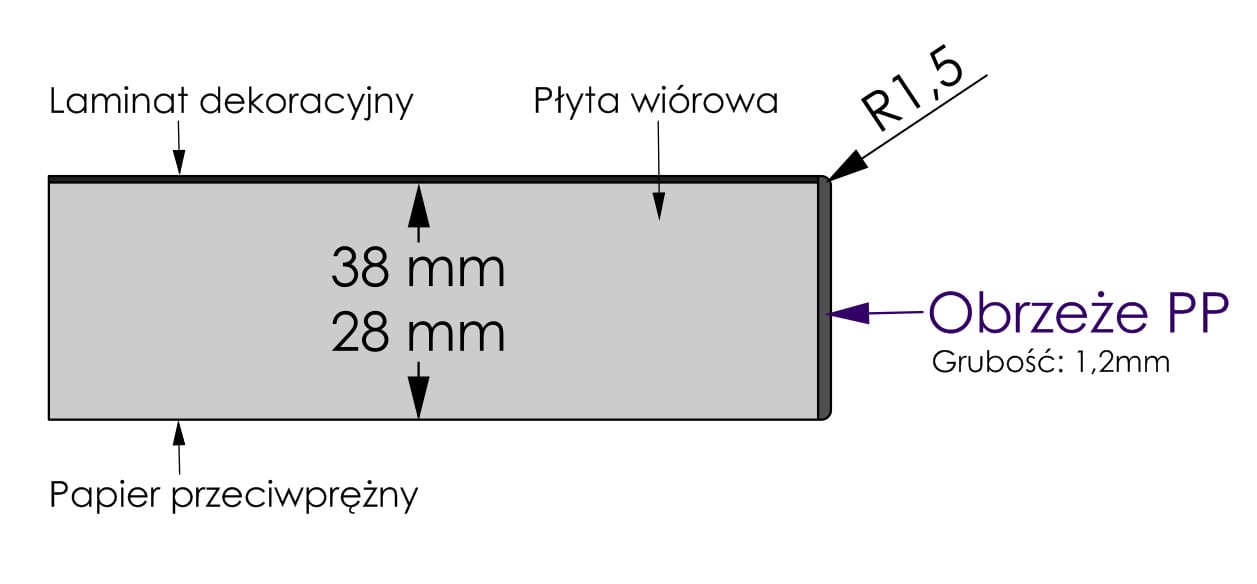 WIDTH

[Mm]

THICKNESS

[Mm]

LENGTH

[Mm]

PREMIUM WORKTOPS

635, 700, 800, 900, 1200

28

38

3050
Production standard of Premium countertops:
Thickness: 28mm, 38mm
Length: 3050mm, 4200 (selected decors)
Width: 635, 700, 800, 900, 1200mm
In stock JUAN we have countertops with the following dimensions:
Thickness: 28mm and 38mm
Length: 3050mm
Width: 600mm
Application:
worktops in kitchen furniture,
kitchen islands
bathroom countertops
table tops and desks,
reception, shop and restaurant counters.
Features:
mechanical strength,
resistance to dirt and UV rays,
increased resistance to moisture
abrasion resistance,
resistance to high temperature (with short contact with the surface of the table top),
ease of processing and assembly,
hygiene class: E-1.
Straight edge countertops - accessories
Our offer also includes:
matched Polypropylene PP edging
laminate strip matched to each table top (with or without glue),
laminate strip for the table top trim,
transparent wall edging strips.
Services
we cut our countertops to size,
we cover narrow edges,
we make holes for the sink, hob, etc.
When placing an order for countertops, it is enough to provide us with a template or drawing with the given dimensions of the elements.