MAIN PAGE > Offer > Countertops, window sills
For over 20 years we have been producing postforming products such as:
laminated kitchen worktops,
internal window sills.
Our long-term experience is a guarantee of high quality products, rich colors and attractive prices.
We are a leading manufacturer of laminated kitchen worktops. Our
laminated worktops
have:
a wide range of designs and colors,
the highest quality at an attractive price,
modern surface structures,
high strength.
Infinitely many (decorative) possibilities
We offer over 90 decors of monochromatic, fancy and wood-like worktops. Different surface structure - matt, gloss, grained, wood or stone structure - will allow you to perfectly match the worktop to both modern and classic kitchens.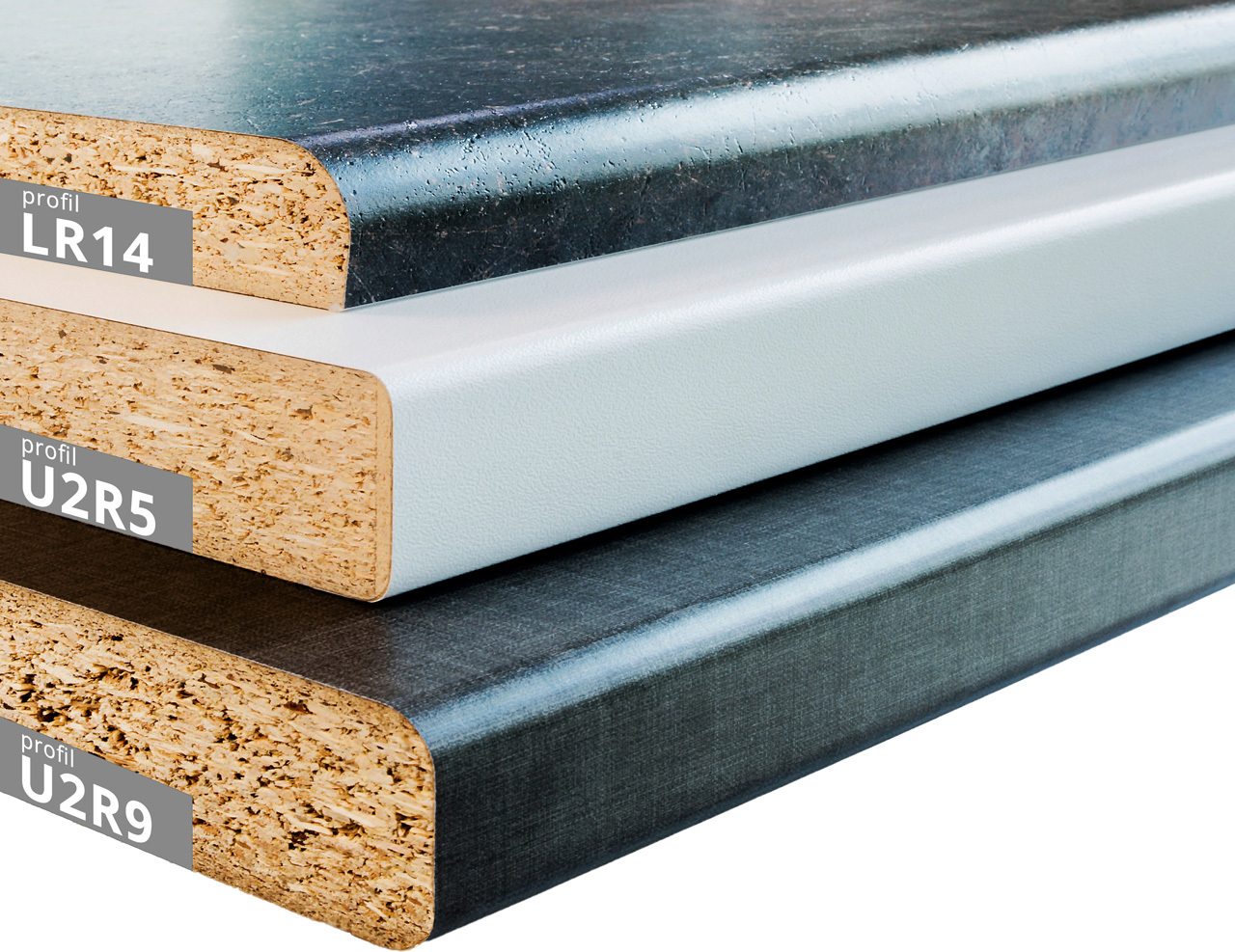 Laminate countertops - structure
We produce kitchen countertops using modern postforming technology. During the production of countertops, the laminate is bent and hot-glued to the appropriately contoured edge of the board.
See how our countertops are built:
base material - 3-layered chipboard,
top layer of the worktop and rounded front - high-quality HPL, CPL decorative laminate,
bottom layer - backpressure moisture-resistant paper,
the place of contact between the laminate and the backpressure paper is sealed and secured with a joint of polyurethane adhesive.

A novelty in our offer - Silver collection - U2R5 profile. As the only Polish manufacturer, we use modern technology to strengthen the front part of the worktop with a chipboard strip, allowing us to obtain the rounded edge and contributing to its perfect smoothness and higher resistance to mechanical damage.
Laminate countertops - dimensions
Production standard
of our countertops:
Thickness: 28mm
Profile: LR14
Thickness: 38mm
Profile: U2R5 (SILVER collection)
Length: 3050 mm, selected decors: 4200mm
Width: 600, 700, 800, 900, 1200mm
Countertops: unilaterally or bilaterally rounded
We also offer countertops in U2R9, UR14 profile, as well as non-rounded countertops.
In Juan stock there are countertops of the following dimensions:
Width: 600mm
length: 3050mm
Thickness: 28mm profile LR14,
Thickness: 38mm profile U2R5,
unilaterally rounded worktops.
Laminate countertops - features
Check what distinguishes our
laminated worktops
:
mechanical strength,
resistance to dirt and UV rays,
rich colors,
abrasion resistance,
resistance to high temperature (in case of short contact with the worktop surface),
ease of machining and assembly,
hygiene class: E-1.
Laminate countertops - application
Our laminated kitchen tops can be used as:
worktops in kitchen furniture,
table and desk tops,
reception, store and restaurant counters.
Laminate countertops - accessories
We also offer:
laminate strips suited to each worktop (with and without glue),
side edging strips,
angle edging strip - for connecting tops at right angle in the shape of letter "L",
joining strips - for extending worktops,
laminate strips for wall edging strips,
transparent wall edging strips.
Special orders
Untypical orders are treated individually. If you need:
a top covered with decorative laminate on both sides,
a top with an individual print,
... you are in the right place.
Services
See what else we can do for you:
we cut our countertops to size,
we cover narrow edges,
we make holes for the sink, hob, etc.
When placing an order for countertops, it is enough to provide us with a template or drawing giving dimensions of elements.
Internal laminated window sills
Internal laminated window sills are produced in postforming technology. The three-layer chipboard is coated with a durable and abrasion-resistant laminate. Colors of the window sills correspond with JUAN countertop decors.
Our window sills have:
hygienic certificate E1,
technical approval of the Building Research Institute (ITB).
Internal window sills - dimensions
The production standard of our internal window sills:
Thickness: 28mm
Profile: LR14, UR14, U2R9
Thickness: 38mm
Profile: U2R5 , U2R9
Length: 3050mm selected decors also 4200mm
Width: 290mm or 390mm
Laminate-covered chipboards /
Wall panels
We offer more than 90 decors of chipboard covered with decorative laminate from JUAN collection.
Laminate-covered chipboards - dimensions
We produce laminated chipboards in the following dimensions:
Thickness: 10, 16, 28, 38 mm,
Length: 3050mm selected decors also 4200mm (for thickness 28 and 38mm),
Width: 600, 1200mm.
Laminate-covered chipboards - application
Chipboard covered with laminate can be used as:
wall panels,
fronts and bodies of cabinets,
desks and counters.
JUAN - benefits for the customer
Our long-term experience in the production of postforming elements allows us to exceed the expectations of our customers. Based on the dimensions, drawings and templates provided by our customers, we perform the following services on our products :
cutting, covering and milling,
digital processing.
List of dimensions of our products
WIDTH

[Mm]

THICKNESS

[Mm]

LENGTH

[Mm]

COUNTERTOPS

600, 700, 800, 900, 1200
28, 38
3050,
selected decors: 4200

WINDOW SILLS

290, 390

LAMINATED BOARD /
WALL PANELS

600, 1200
10, 16, 28, 38
3050
Attention: Given lengths are factory dimensions and require equalization